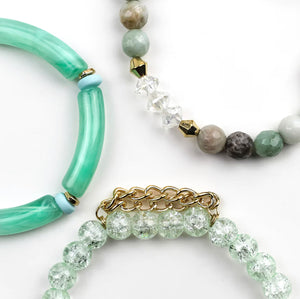 ERIMISH VIP STARTER STACK
World Tour Collection

Our VIP bracelets demand attention when being worn; be sure this will impress those around you! 

A minty clear bracelet with 2 chain strands, a classic soft green faceted bracelet with brown specks, plus our gorgeous mint acrylic bracelet make up this stack. 

All Stretch and All Separate pieces.
Bracelets are 'one size fits most' and are designed to fit wrists up to 7.5" comfortably.
Lead & Nickel Free
Please be aware that due to the unique and handmade nature of each product, colors, shapes, and bead sizes may vary slightly from the photos and descriptions.