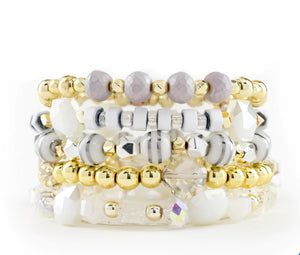 ERIMISH SOLAR
Spring 2023

Illuminate your life with our Solar Stack – the white-hot way to get your daily dose of sunshine! Our stack captures and concentrates the sun's sunlight, providing a pleasant, warm ambiance that's perfect for everyday wear or dressing it up for a night out! 

Stretch and All Separate pieces.

Bracelets are 'one size fits most' and are designed to fit wrists up to 7.5" comfortably.

Lead & Nickel Free

Please be aware that due to the unique and handmade nature of each product, colors, shapes, and bead sizes may vary slightly from the photos and descriptions.