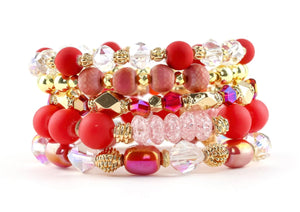 ERIMISH RED HOT
Fall 2023

The Red Hot Stack features a vibrant red hue and a hint of gold sparkle that creates an elegant statement piece. Easily become the envy of your peers with this sleek arm candy.

Lead & Nickel Free

Bracelets are 'one size fits most' and are designed to fit wrists up to 7.5" comfortably.

Please be aware that due to the unique and handmade nature of each product, colors, shapes, and bead sizes may vary slightly from the photos and descriptions.