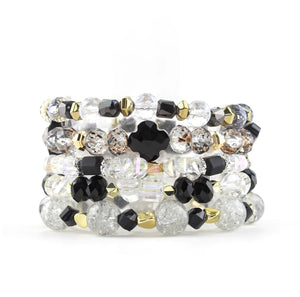 ERIMISH CHRISTIE
Barbie Summer 2023

The Christie Stack offers a sophisticated yet approachable style for everyday use. The black and crystal vibes give a subtle yet elegant look, perfect for any occasion. Enjoy the effortless combination of functionality and style with the Christie Stack.

Lead & Nickel Free

Bracelets are 'one size fits most' and are designed to fit wrists up to 7.5" comfortably.

Please be aware that due to the unique and handmade nature of each product, colors, shapes, and bead sizes may vary slightly from the photos and descriptions.