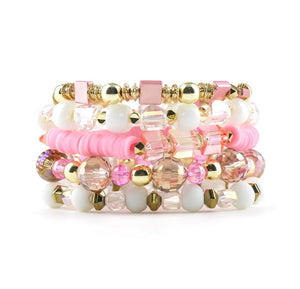 BABE ERIMISH
Summer 2023

Introducing the Babe Stack: the perfect combination of soft pink and sparkle for your must-have fashion accessory. Crafted from the highest-quality materials, the Babe Stack is sure to turn heads and make a statement. Add a splash of glamour to your wardrobe with the Babe Stack!

Lead & Nickel Free

Bracelets are 'one size fits most' and are designed to fit wrists up to 7.5" comfortably.

Please be aware that due to the unique and handmade nature of each product, colors, shapes, and bead sizes may vary slightly from the photos and descriptions.